Late Rtn. Dr. Sunil Desai PDG 1990-91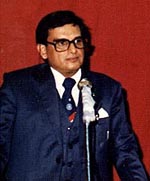 Late Rtn. Dr. Sunil Desai
Late Rtn. Dr.SUNIL DESAI born on 14th June at Kolhapur. Educated in Kolhapur, Pune and did M. B. B. S. from Karnatak University in 1962.
Worked in Bombay for two years in J. J. GT; and Sion hospital as registrar, joined his father in general Medical Practice in 1967 at Kolhapur. He owned a Nursing Home called- RASHMI NURSING HOME.
ROTARY CAREER
He was a member of Rotary Club of Kolhapur since Nov. 1966. He maintained 100% attendance for last 26 years. He was a Sr. Active member of the club and is P. H. S. M.
At the club level he had handled many assignments and was the secretary; twice Vice-president, Bulletin Editor twice & Director of Club Service & became the President of the club in 1974-75.
Following major activities were done during the Presidentship:
Sponsored Rotary Club of Kolhapur Mid Town.
Rajarshi Shahu Blood Bank was inaugurated in 1975.
Traffic Safety Week organised on grand scale.
Received District Award for the best activities done under International Service.
ROTARY DISTRICT CAREER
On the District Level he was GGR in 1975-76. Since then he was a District Officer of R. I. Dist. 317 & was popularly known in the District as "SUNIL".

Since 1976 he had handled numbers of Committee Chairmanships at Dist. level like WCS, INT. Youth Exchange, Inter District Youth Exchange, Youth Activities Chairman, Match Clubs programme & was District Rotract Chairman for two years.

He was District Chairman for G. S. E, when he received the best chairmanship award..... The ATLAS ROTARY FOUNDATION TROPHY" in 1985-86 at Bijapur Conference.

He was Governor's Zonal Representative twice & Area Aaid once. He was a member of District's Nomination Committee and Chairman for Mini District Assembly, twice.

He had attended & participated in 23 district conferences, 17 District Assemblies, 3 Rotary Information Institutes, Two ASIA Zone II R. I. Institutes of Madras, Kathmandu (Nepal) & Polio Task Force Work Shops at Bombay, Delhi. Had conducted Two Rotract District Conferences, Three Leadership forums, Two Ryla camps and was Chairman for two Rotary 1ntercity meets and three Rotract Zonal Meets.

Had addressed Rotract, Interact & Rotary District Conferences, Inter City Inter District Rotary Meets, PET sessions & District officers Meet on numbers of occassions. He had addressed Rotary club of Okland, Pittsburgh USA & was key note speaker for International service of R. I. Dist. 313's Inter City Meet, Solapur. He was installing officer for Rotary, Rotract & RVC Clubs many times & had addressed number of Rotary, Rotract Clubs of District 317 on number of occassions.

He was unanimously elected as a District Governor Nominee of R. I. Dist. 317 for the year 1990-91 at XXXth Rotary District Conference at Dharwad.

After 13 Yrs, Kolhapur has got Rotary Governorship.
PROFESSIONAL CAREER:
Was President Of Indian Medica1 Association Kolhapur Branch in 1982.
Started his RASHMI NURSING HOME in 1977.
He was a Physician for Income Tax Employees, Railway Staff and couple of leading hostels in Kolhapur.
Special Recognition: Honored by KMA in 1985 for the excellent work put up in KMA executive body, for six years.
He had acted in two dramas on the Amateur stage. One "Lobha Nasava Hi Vinanti" of Vijay Tendulkar was staged in Bombay.
He had also acted in Two Marathi Films as a guest artist.
Married to Sharmila; good Badminton & District Bridge player. She is past president of Inner Wheel club & President of Ladies Club, Kolhapur. Participates in cultural programmes of Sanyukta Shardotsav & has liking for social work and reading.
They have daughter Anita; B. A. & done beauticians' course; recently married and son Prasad who is a district badminton player, singer and has completed his M.B.B.S.