Paul P. Harrias
Founder of Rotary

Cell : 9422614119

Cell : 9890681200
We meet on Each Wednesday at 5.30 pm at Hotel Vrishali.

Events

Our
Rotary

RYLA Kolhapur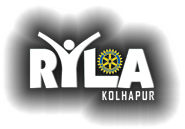 Kolhapur city is a beautiful little city, situated in the south west corner of Maharashtra State. With 7500 square kilometers of territory and a population of some 7 lakhs inhabitants, it offers its visitors a wide range of possibilities going from the most ancient deep-rooted traditions to the most modern business, from history and arts to mountains and woodlands.

Rotary movement in Kolhapur has been participating & inspiring the people of Kolhapur and areas around to involve themselves in many a social projects. The beneficiaries of such projects have all the praise for those who have been their benefactors. Many a projects taken up so far have been well received and continue to help the needy. That has been the contribution of Rotary movement towards those who require help.